The New LiquiPrep Material Preparation and Feeding Unit for Self-Leveling Media
Scheugenpflug has launched a new generation of its proven A310 material preparation and feeding unit for self-leveling media: The new LiquiPrep LP804 not only allows for reliable preparation and feeding of the medium to the dispenser but its intelligent diaphragm feed pump also ensures long service life and significantly reduced maintenance costs.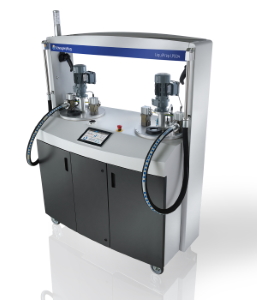 The ergonomically designed front of the LiquiPrep LP804 enables efficient handling and simplified maintenance (Image source: Scheugenpflug AG)
Electronic components have to work. An optimal dispensing performance as well as an absolutely homogeneous and bubble-free material are the prerequisites for this. In view of increasing requirements, however, more and more potting materials with very special properties are coming onto the market. They require adjusted preparation and feeding units that prepare the medium reliably and ensure gentle, uniform feeding to the dispenser. High demands also apply if the systems are to be integrated into automated production processes.
In order to help companies meet these challenges, Scheugenpflug has launched a new generation of its proven A310 material preparation and feeding unit: The new LiquiPrep system incorporates the process engineering know-how of 30 years of market activity and allows for reliable preparation and feeding of self-leveling adhesives and potting materials with a viscosity of up to 70.000 mPa∙s. Processes such as homogenization, tempering, circulation and evacuation can be used to specifically influence the processing properties of the medium.
High wear resistance thanks to intelligent diaphragm feed pump
The heart of the system is a novel, intelligent diaphragm feed pump. State-of the-art sensors individually determine the degree of filling here. This ensures a continuously high feeding performance. The diaphragm feed pump also offers significantly increased wear resistance and thus a long service life. Furthermore, users benefit from improved ease of maintenance: Pump maintenance can now be carried out by the operator themselves for the first time. Process optimization of the system also enables fast evacuation and thus ensures that the material is quickly available in the required quality.
Easy operation and efficient integration
In the material tanks of the LiquiPrep LP804 with a useable volume of 20 and/or 50 liters, minimum quantities starting from 5 liters can now be processed reliably. In the case of increasing purchase quantities, the material output can also be quickly increased while the preparation quality remains the same. This means that a renewed investment in a larger system is not necessary.
A strong focus was also placed on improving usability. This is reflected in the new, modern system design: The ergonomic front with easily accessible maintenance doors ensures greater ease of use. The optimized arrangement of the relevant system components also allows more efficient handling and easier integration of the LiquiPrep LP804 into existing production environments. The new, intuitive EViS control unit also supports facilitated operation in times of increasing digitalization. In addition to fast activation of functions and easy adjustment of process parameters, it also allows continuous monitoring of system performance. The collected data can then be evaluated, analyzed and used for further process optimization.