The New Biral ComBo
Biral has updated its range of pressure elevation systems to reflect the latest advances in technology. The new Combo Series pressure elevation systems offered by the Swiss pump manufacturer feature perfectly balanced regulated pressure elevation systems with up to four pumps connected in parallel.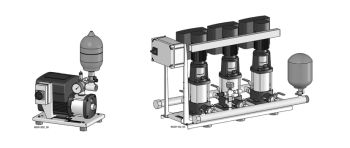 Biral AG
While unregulated systems remain part of the available range, Biral can supply regulated pressure elevation systems to suit any requirements. The new ComBo systems are available with horizontal high-pressure pumps (ComBo easy) or with up to four multi-speed vertical high-pressure pumps (ComBo 1x HP-E or ComBo 2x HP-E to 4x HP-E). As with the PrimAX, the ModulA and the VariA-E, users of the Combo systems also benefit from the intuitive Biral control concept. So making the required pump settings could not be simpler.
Multi-pump systems offer additional safety and reliability due to the availability of redundant-backup pumps and, by means of a cascade configuration, can achieve particularly high volumetric flow rates. The pumps required to do so are brought into and taken out of action according to demand – without the need for an additional master control system. The HP-E pumps used have regulated-speed drive motors with frequency inverters. That means they can constantly adjust their speed so that the system is always supplied with a constant pressure even with fluctuating water consumption. And that is done directly and almost silently.
The ComBo easy systems are used, for example, in single-occupancy or holiday homes with insufficient or fluctuating mains pressure. Fitted with a single or up to four HP-E pumps, the Biral ComBo… HP-E is capable of covering all customer requirements. ComBo… HP-E systems also satisfy the needs of very large systems such as in hospitals, hotels or office buildings. At the lower end of the power range, Biral uses motors with IE5 Ultra Premium classification.