The Cartex Cartridge Seals of EagleBurgmann
EagleBurgmann Cartex cartridge mechanical seals are completely pre-assembled and exactly positioned component seals with lid and shaft sleeve. They are fitted in the pumps of many industrial sectors, such as e.g. in chemistry, in water applications, in the food industry and in many other applications.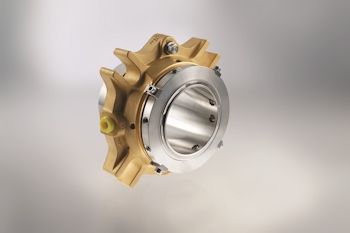 Economic, reliable and tried and tested 500,000-fold. The Cartex seal series – here the eCartex with the advantages of HighTech DiamondFace coating Technology (Image: EagelBurgann)
These seals have been used successfully for years to seal all standard pumps. More than 500,000 seals have been installed in the meantime and have proven their reliability and economic efficiency. Compared to component seals, the life cycle costs are reduced by up to 30%. The downtimes of the system during assembly are further reduced by approximately 2/3 of the time because measuring work for positioning is omitted. Cartex seals have their own shaft sleeve and no dynamic O-ring to the shaft which can cause damage.
These properties were increased even further by the new generation of proven cartridge seals with the advantages of the HighTech DiamondFace coating technology: the so-called eCartex uses DF-coated seal faces which stand for extreme hardness, resistance to wear, and excellent thermal conductivity. The result is a high savings potential that pays off quickly: energy consumption is reduced by up to 80%, and the robust seal faces increase the operating period by up to 100%. One example of such energy savings: an uncoated Cartex-SN/43 (SiC/SiC) with 8,000 operating hours per year converts 3,200 kWh into friction energy. The same DF-coated eCartex saves approximately 2,500 kWh within this period.
Upon request we can easily transfer this technology to all Cartex seal types – either to upgrade the seal or to utilize DiamondFace technology in case of repairs.
Advantages at a glance
Extreme extension of MTBF/MTBR intervals and reduction of associated costs compared to component seals
Pre-assembled unit
Protection of pump shaft/shaft sleeve, Cartex seals have their own shaft sleeve and no dynamic O-ring to the shaft.
The power efficiency of each Cartex seal can be increased even further with DF technology.