Tencarva Relocates to New Nashville Facility
A state-of-the-art repair service center with the first of its type capabilities in Tennessee is a central focus of the new Nashville Branch Office facility of Tencarva Machinery Company LLC, based in Greensboro, N. C., according to Edwin W. Pearce, III, president of Tencarva.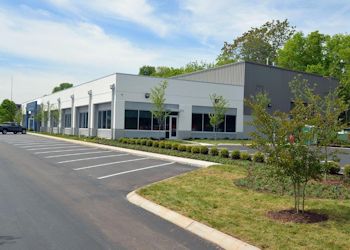 New Nashville Facility (Image: Tencarva Machinery Company)
The firm relocated its Nashville operations on May 18, 2015, to its new facility at 2937 Kraft Drive in Nashville, Tenn., combining into one location its Nashville Branch Office and the Southern Sales Division.
Don Wirth, vice president located in the Nashville Branch Office, indicates, "Our new office / service facility is the culmination of a vision that began years ago as Tencarva became heavily engaged in pump repair activity doing both field work and inside shop work. It epitomizes our desire to place our customer first when it comes to the quality environment in which the work is done and, as important, putting in place the necessary equipment so our valued employees have a bright and safe working environment in which to repair our customer's equipment."
Architect for the facility is Southeast Venture, with Crain Construction as the general contractor. Construction began on the facility in August 2014.
The facility on a two-acre site is approximately 23,000 square feet of office-service center, with 9,000 square feet designed for office and training, and 14,000 square feet featuring its new service capabilities, along with storage. The Tencarva team from both divisions totals 30 employees.
The major portion of the service area serves as a repair facility for the firm s municipal and industrial customers. The operation's uniqueness hinges on the actual layout and approach to handling of the equipment to be repaired as it comes in and moves through the repair facility. Two five-ton overhead cranes and seven one-ton capacity, column- mounted jib cranes for lifting heavy equipment prevent loss-time injuries and ensure worker safety, which is most important to Tencarva.
Within the office area, a 24' X 40' training area allows staff to perform customer training activities not possible in the previous facility. These customer seminars will feature technical product education, as well as equipment maintenance and repair.
An air-filtered "clean room" with its own climate controlled system will be used when doing reassembly of pump bearing frames to ensure no airborne foreign matter jeopardizes the quality of the bearings and to create the best conditions for this repair. For larger companies that look for extended equipment run times, this clean environment for bearing assembly is absolutely necessary and is a vital component of Tencarva s quality repair process. Another key component to the new building is a 15' X 24' X 8' deep test pit, which will soon have an installed 12" diameter flow loop with calibration, monitoring, testing, and recording instrumentation to run performance tests on both submersible and vertical turbine pumps up to 300Hp (horsepower) – 460V (volts).
Wirth emphasizes, "Customers have a highly trained maintenance workforce handling the service and repair work on their specialized and unique production machinery so, in some cases, they're looking to outsource pump repair. This is the business we're vying for using our own trained workforce. With the facilities and Total Quality Repair Program, we are confident Tencarva would be highly considered by both our industrial and Southern Sales municipal customers."
Wirth says, "Again, we think Tencarva s ability and added services are unique, as we will be able to quantify, verify and assure quality in both the repair and performance of the pumps and allow customers to reinstall the equipment we repaired knowing it will operate and perform to their expectations."