Tencarva Machinery Company Adds John Crane Lines To Tennessee Seals and Packing Capabilities
Tencarva Machinery Company has expanded its territory for representation of the John Crane lines of seals and packing for all industries with a new contract to include Tennessee, according to Rod Lee, president of Tencarva Machinery Company.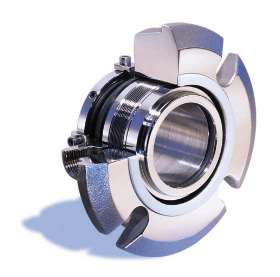 The cartridge seal is a typical seal available from John Crane
"We are very excited to add Tencarva to our Tennessee sales and support team," says Andrew Forrest, vice president of sales with John Crane Inc., headquartered in Morton Grove, Ill. "We recognize that Tencarva is a very professional organization, and we are proud to have them as our business partner. With their help we know the Tencarva/John Crane team will be very successful in the state of Tennessee and look forward to a long and mutually beneficial relationship providing exceptional service to our customers."
Don Wirth, vice president, explains, "John Crane is the number one mechanical seal provider in the U.S. with the largest market share and greatest name recognition. Representing the top seal manufacturer in the Tennessee region is significant for us because John Crane offers a superior and wide range of products and has the highest level of support available in the business."
Wirth continues, "When we combine this product and service opportunity with our manpower, it greatly enhances and strengthens our company's position as the Number One pump and compressor distributor in the Tennessee marketplace."
Mechanical seal brand names now available through Tencarva in Tennessee include John Crane, Sealol, Safematic and Flexibox. In addition, these other product lines are offered: John Crane Packing, John Crane Power Transmission Couplings, LEMCO mechanical seal and support systems, heat exchangers and lubrication systems. Sealing solutions are available for all types of rotating equipment, including pumps, agitators, fans, mixers and blowers. John Crane provides a wide range of seal sizes and designs to meet the needs of all applications, including component, cartridge and split configurations. John Crane has global sales of $1.3 billion annually, reflecting its market position.
John Crane, part of Smiths Group, a global technology business listed on the London Stock Exchange, has 20 manufacturing sites and more than 6,000 employees located in 50 countries. John Crane designs and manufactures seals and associated products mainly for the oil and gas, chemical, pharmaceutical, pulp and paper, and mining sectors. Since being established over 90 years ago, John Crane has become the acknowledged global leader in its field. Today John Crane provides the most complete selection of engineered mechanical seals, sealing support systems and mechanical packing, complemented by power transmission couplings. John Crane products are a globally recognized and trusted brand in all industrial sectors.
Tencarva Machinery Company is a distributor specializing in liquid process, compressed air, vacuum equipment and custom-designed systems for the industrial and municipal marketplace. Tencarva is dedicated to offering the highest quality process machinery, coupled with superior customer service and integrity.