Teknospeed – a compact, essential and easy-to-use range.
Lowara announces the launch of its new Teknospeed series of variable speed electric pumps and pressure booster units.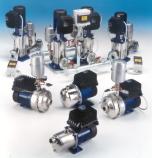 The single-phase Teknospeed variable speed electric pumps and pressure booster units are designed for residential applications as they provide all the comfort and advantages of constant pressure in the home.
Teknospeed means:
- Constant pressure
- User comfort
- Silent running
- Reliability
- Ease of use
The main applications for which the Teknospeed series offers elevated comfort and benefits are: home pressurisation, irrigation, greenhouses, light industry, fountains and creative water displays.
The Teknospeed series comprises a frequency converter integrated into the pump which adjusts motor speed so as to constantly provide users with the same pressure, even when demand for water changes. The products are easy to use thanks to the three simple indicator LED's, a potentiometer for setting the required pressure and standard accessories (power cable and plug included) which allow quick and easy installation (Plug & Pump). Product reliability is one of the most important characteristics of Teknospeed pumps: its IP55 protection also allows outdoor installation, the electronics guarantees they work correctly even with unstable power supplies. If one of the two pumps in a Teknospeed pressure booster unit develops a fault, the plant will not shut down completely, the float fitting protects the pump from dry running and a complete alarm diagnostics reports any faults and stops the pump if necessary to prevent the product from being damaged.
The range features a large number of models and pump types (horizontal and vertical, single pump or two-pump pressure booster units). Teknospeed datasheets are available in the Product section of Lowara's website.
About Lowara
Lowara Srl Montecchio Maggiore, Vicenza, (www.lowara.com) which is part of the ITT Industries group, is a leader in the manufacture of hydraulic pumps and water handling and control systems. It has 900 employees in Europe, 730 operating in Italy. In 2000 its consolidated sales totalled aboutr 150 million dollars, or over 165 million euro.
ITT Industries, Inc. (www.itt.com) supplies advanced technology products and services in key markets including: electronic interconnects and switches; defense communication, opto-electronics, information technology and services; fluid and water management and other specialty products. Headquartered in White Plains, NY, the company generated $4.7 billion in 2001 sales. In addition to the New York Stock Exchange, ITT Industries' common stock is traded on the Midwest, Pacific, London, Frankfurt and Paris exchanges.