Technical Publication for Onsite Wastewater Treatment
Efflueent Pumps For Onsite Wastewater Treatment: Selecting the Right Pump for the Job. That is the title of the new publication now available from the Sump ans Sewage Pump Manufacturers Association (SSPMA) on video or CD-ROM.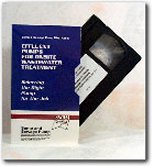 Effluent Pump Training Video for Onsite Wastewater Systems (Photo: SSPMA)
A new, 28-minute VHS videotape or CD-ROM (Mac and Windows compatible) presentation, with accompanying worksheet for sizing and selecting effluent pumps has been published by the SSPMA. It shows two representative installations: enhanced flow septic tank pumping and low-pressure pipe distribution.
SSPMA member rates, educational and quantity discounts are available.
For detailed pricing and ordering information, to obtain a contact form and for contact details please visit the SSPMA's website.
The Sump and Sewage Pump Manufacturers Association is a North American trade organization representing over 90% of the manufacturers of sump, effluent & sewage pumps, together with component and accessory suppliers.