Tapflo Twinpump: One Pump That Works Like Two
The Tapflo twinpump is developed from the company's effective membrane pumps. The new double-action pump is mainly intended for printing presses and other industries where ink, glue, or other liquids must be transported from one point to another.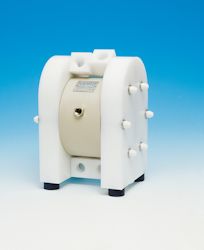 Tapflo Twinpump
The pump's most striking quality is that it can simultaneously handle both pumping and recirculating liquids of varying quality and viscosity. For example, an advantage for a printing press is that one pump can distribute the ink to a roller and at the same time recirculate the remaining ink to a tank.
Tapflo AB, one of Europe's leading manufacturers of membrane pumps, has refined a series of pumps and equipped them with double suction and discharge openings. A solution that makes it possible for the new Twinpump to simultaneously handle two separate liquids with different qualities. Tapflo's new Twinpump has a capacity of up to 420 litres per minute and 8 bars of air pressure. All pumps can be adjusted from 0 to 100 percent capacity.
"A system like Twinpump allows for pumping of two different liquids in the same pump, or pumping and mixing," says Håkan Ekstrand, Managing Director at Tapflo in Sweden. "Furthermore, the membrane pump is designed with few components, which results in a long product life and makes the pumps reliable and easy to maintain."
With simultaneous pumping and recirculation, this double action pump also has safety advantages. If for any reason the pump should stop, both pump flows are also always stopped, thus minimizing problems with leaks and overflows.
"The twin pump is a modification of our standard pump. This alteration we did on the new pump can also be applied to all our older pumps of the same model," explains Håkan Ekstrand.
Several different materials and high reliability
Tapflo's pump is manufactured in polyethylene (PE), PTFE, aluminium and stainless steel (AISI 316L). The material is designed to be used with all types of liquids, from low-viscous alcohols to high-viscous liquids such as glue. The hermetic sealing of the pump allows health hazardous liquids to be handled safely.
The membrane pumps are built with a minimal number of components, resulting in a long product life and making the pumps both reliable and easy to maintain. The service is easy to perform, and the pumps can quickly be de-mounted during service, which also keeps maintainance costs low and minimizes the risks for interruptions in the work process. The pumps can also be run dry without damage.
ATEX-certified pumps
Tapflo's TX range of diaphragm pumps are approved for use in EX zones 1 and 2 and satisfy new EU directive 94/9/EC (ATEX 100a) which is now also mandatory for non-electrical equipment.