Tapflo Introduces Two Biggest Centrifugal Magnetic Drive Pumps
Following the release of CTM32 in polypropylene in June 2015 and in PVDF in December 2015, in August 2016 Tapflo's centrifugal magnetic drive pumps range is being supplemented with two new sizes - CTM40 and CTM50.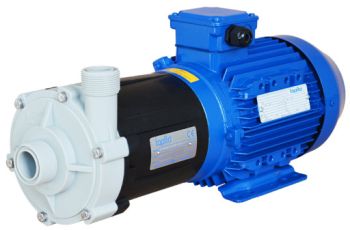 Tapflo CTM 40 Magnetic drive centrifugal pumps (Tapflo)
The new pumps offer a wide spectrum of application with head going up to 21 mWC and flow reaching 29 m3/h.
All Tapflo CTM pumps are available with BSP thread, flange or hose connections. The pumps can be used for chemically corrosive and toxic liquids as well as for clean and thin liquids like pure chemicals, acids and alkalis because the wetted components are non-metallic injection molded thermoplastics enabling excellent corrosion resistance.
The version in PP-GF (glass fibre reinforced polypropylene) provides great mechanical strength and allows liquid temperatures up to 70°C. The PVDF (PolyVinylidine DiFluoride) version has superior chemical resistance and allows temperatures up to 80°C. - says Gunnar Theding OEM Key Account Manager for Tapflo.
What differs our magnetic pumps from other suppliers of similar solutions is reliable design without shaft. The impeller magnet assembly is designed with very powerful bushings where a conventional crack sensitive shaft is not needed. This results in a pump that has fewer parts and is very reliable in service – explains Mikolaj Laguna-Horodniczy from Tapflo Marketing
Tapflo CTM pumps are fitted with Powerful magnet couplings where NdFeB (Neodymium-iron-boron) magnets with unique magnet cage system have a superior strength also under demanding circumstances. The power from the drive is transmitted even at high temperatures and with high specific gravity liquids. Furthermore the robust steel frame for the external magnet increases the magnet power and grants a gentle startup of the pump.
The magnets are totally encapsulated in their cage with the unique system that avoids the use of resins and glue – explains Jakub Zduńczyk Product Engineer at Tapflo
This grants a safe system with better performance at high temperatures. Furthermore the impeller is injection molded, resulting in excellent performance and no weak points