Tapflo Introduces New Set of Pumping Solutions
Tapflo launches a whole set of product news in 2015. Product updates include: a built-on dampener, heavy duty integrated flange, sanitary heavy duty ball cup valves and filter units.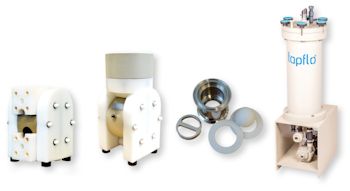 New pumping solutions (Image: Tapflo)
"The new solutions were developed in response to our customers' expectations and global pump market demands", says Mikołaj Laguna-Horodniczy – Global Marketing manager at Tapflo.
Built-on dampener for diaphragm pumps
The Tapflo pump with a built-on dampener combines the advantages of a standard pumps with the active pulsation dampener in a compact manner. If you are looking for an effective way to eliminate pressure variations on the pump discharge and you have limited space in your installation, the built-on dampener is an ideal solution. The dampener housing is also the pump manifold so there is no need to worry about connecting the dampener to the pump. This solution does not affect the pump flow nor the dampening effect. It is available in pump sizes TR20, T50 and T100 and all material executions.
Heavy duty integrated flange for plastic diaphragm pumps
Pumps with integrated flanges are a robust and solid design. When there is a risk of transferring of vibration from the installation to the pump, the solid manifolds provide better stability and sealing for the pump. Using this solution it is possible to connect the pump to the installation by a flange (DIN, ANSI) or through a BSP thread. It is available in pump sizes T50, T100, T200 and T400 and all material executions.
Sanitary heavy duty ball cup valves for sanitary series diaphragm pumps
The range of optional valves for sanitary pumps sizes T225 and T425 consists also of heavy duty ball cup valves. The ball valve cup is made in one piece with the valve seat. It is mounted on the pump with clamps therefore ensuring easy maintenance and cleaning. This option is a perfect solution when there is risk of damage to the valve seats form the product. If such situation is to occur there is no need to replace the whole manifolds or housings, just the valve cup what drastically reduces the spare parts cost.
Filter units
Cartridge filters with 1, 3 or 7 cartridges are standalone units that can be combined with CTV vertical pumps or ordered as a complete, compact unit equipped with a CTM mag drive pump. The cartridges are available in porosities of 1, 10, 20 and 50 µm and provide up to an excellent 95% filtering efficiency. The filter is available in PP.