Taco's Newly-Updated FloPro Designer
The layout and heat loss design suite enables contractors or designers to define building exterior and interior spaces, external influences, and to build and specify components for a host of hydronic, radiant heat, water heating and HVAC applications.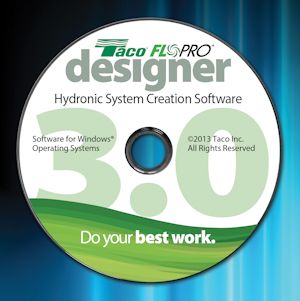 With every change, the program dynamically changes calculations and their impact on other components within the system.
With FloPro Designer, you simply draw the floor plan, drop in windows and doors and, in an instant, installers or designers have accurate heating and cooling loads.
The program also performs complete system design for baseboard loops and radiant manifolds, sizes pipe of all types and variety, and specifies boiler, expansion tank and circulator models.
The new "side drawing" capability now allows installers to draw up a complete boiler room to scale with every component, pipe size and length, pump model, ball valve and boiler type included. Or, a designer can draw the picture, print it out and give it to an installer who takes the illustration to the job to be installed exactly as shown.
Another valuable function is the program's running tabulation of all the material and system components required for the job – from the newest pump models and hydronic components to the total length of pipe needed. When the button is pushed to finalize the design plan, it presents users with a virtual three-ring binder as a very classy, intelligent presentation for clients and a complete list of materials for the job.
The newest FloPro Designer upgrades include:
Update boiler wizard creates mechanical room floor plans with side and top perspectives
New floor plan details
Condensate neutralizers for use with mod-con boilers
Glycol feed system
New pipe materials and fittings
Piping unit calculations
Picture: FloPro Designer (Image: Taco)