Taco Adds Three New Suction Diffuser Sizes
Taco has expanded their suction diffuser line with three new sizes: 4 x 2.5-inch, 5 x 3-inch, and 8 x 5-inch sizes. Taco's suction diffusers incorporate numerous features into one device that simplifies installations and reduces installation costs.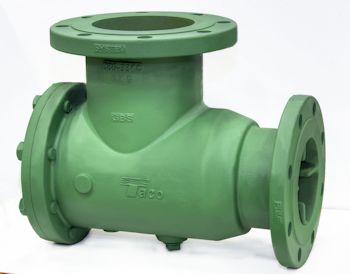 Taco suction diffuser line (Image: Taco)
Suction diffusers are flow-straightening devices that provide maximum flow efficiency at the suction inlet of the pump while at the same time reducing space and fitting requirements. They also eliminate the need for an equivalent length of ten pipe diameters of straight run on the suction side of the pump. It is an elbow (and in some cases a reducing elbow) with a built in strainer that is easily maintained, providing years of trouble-free system performance.
The integral cast straightening vanes ensure uniform flow to the suction inlet of the pump while the oversized body cylinder ensures minimal pressure drop. The suction diffuser's metering port allows for the monitoring of system conditions.
The devices are available for 125 psi or 250 psi working pressures, with either flanged or grooved-flange connections.