T-One – The Saer Silent Revolution
The compact T-One is an exclusive and patented electronic pressurization system created by Saer. The technology is created by the insertion of a submersible electric pump into a stainless steel tank which, driven by electronic equipment, can maintain a consistent delivery of pressure, regardless of the demanded flow.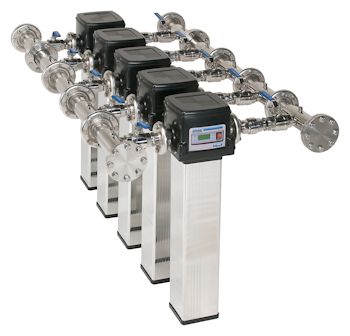 The T-One can be assembled in groups and is battery operated. The device is multi functioning and the inverters feature communication via Bluetooth, ensuring continuity of service whilst saving energy.
Main Features:
Exclusive - system patented by Saer.
Compact – condensed design featuring in–line installation and eliminates the need for securing units to the floor.
Smart – T-One is equipped with an electronic system which maintains constant pressure (inverter) and and allows the modular to function as a multi-pump.
Modular – up to 8 modules can be operated systematically. Additional modules can be connected at any time and interact with eachother via Bluetooth, requiring no messy wiring.
Silent and Efficient – the module operates at a quiet 60 dB and the inverter posseses NS96 pumps, making it highly efficient.
Energy Saving – the system contains automatic regulation.
Safe – featured with all the necessary defenses.
Efficient –5 sizes available for a wide range of performance
Space-Saver – Frees space and clears traffic areas due to the compact, safe design.
Patented – Original design
Easy – Installation and programming is simple and intuitive.
Quality – Made in Italy
Intuitive- Monitor displays the set pressure (set point).
Operation and Applications
The pressure distribution throughout the group is maintained at a constant rate regardless of the flow demand.
When multiple pumps are running, pumps are switched over automatically and dynamically by the system. The units can be compiled in groups of 8 and in the case of the failure of one pump, operation is still guaranteed by the next and so forth.
Simple, Smart and Safe
Once again Saer introduces innovations in its series that can allow improvement in your life quality with the warranty of safe Italian technology and design. No more space problems neither non esthetic messy cables all around.
The T-One was launched during EIMA exhibition in Bologna and Big 5 in Dubai, and the response of the public has been enthusiastic.
Picture: T-One from Saer