Systemised Liquid Ring Pump (SLRP) Programme Improves Service
An innovative new solution from BOC Edwards is set to revolutionise the purchasing of liquid ring vacuum pumps. The computer programme, called Systemised Liquid Ring Pump (SLRP)enables BOC Edwards to provide customers with an instant 3D visual and blueprint of a pump fitting their bespoke specifications.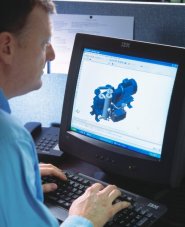 As a result, the lead-time required for a liquid ring pump system has been halved.
Exclusive to BOC Edwards, the programme utilises 3D AutoCad design software to produce a bespoke system drawing, based upon the criteria selected in the SLRP configurator. The configurator includes over 1000 variations based upon six selected options: pump, material, area classification, flange connection, motor, and package system type. This data is input into a menu on the computer screen at the start of the programme and within minutes the customer can see an exact representation of the completed pump.
The Systemised Liquid Ring Pump (SLRP) programme supports BOC Edwards continued development of its liquid ring pump product range which offers complete vacuum pumping solutions for the chemical, pharmaceutical, food processing and power generation industries.
Manufactured in cast iron and stainless steel as standard, specials include hastelloy, duplex stainless steel and aluminium bronze. The pumps are suitable for operation using a wide range of seal liquids including ethylene glycol, water, sodium hydroxide, toluene and benzene.
Liquid ring is a proven, reliable, vacuum pump technology, for continuous operation from atmosphere down to 33mbar absolute. Liquid ring technology offers the capability to handle condensable vapours and even slugs of liquid entrained in the incoming gas stream, without risk of damage to the pump. This makes it a good choice for applications such as vacuum distillation, filtration, and drying, where it can be used to scrub wet gas streams.
The programme, already being used in the UK and Europe, is due to be rolled out globally by the end of the year and BOC Edwards is confident this is just the beginning of new improved processes that will benefit customers.
"We are constantly striving to make the customer's experience as simple and seamless as possible," commented Phil Rawlinson, business development manager (liquid ring pumping), BOC Edwards. "SLRP is about harnessing appropriate technology to provide a state-of-the-art service. Something our industry is yet to take full advantage of".