Sykes Olympic Pumps will Reduce Fuel Costs
Most solids handling or "trash pumps" are great for moving liquid with solids due to the open impeller design. The open impeller allows the solids to pass through the pump and into the discharge hose.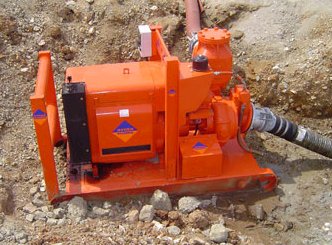 Sykes Olympic CP150i (photo: Sykes).
Sykes Olympic Pump Range not only pump dirty water but also perform the duty with fuel reduction in mind. The impeller, wear plate and volute have all been redesigned to give efficiency levels of 83%.
Fuel is minimised through the pumps ability to reduce engine/motor kw/hp size whilst still achieving maximum performance.
With the cost of fuel and diesel on the continual increase, the Sykes Olympic Pump Range will reduce operating costs saving you money.
The Sykes Olympic range of pumps are available with the Sykes Compressor Prime or 60cfm Vacuum Prime, and sizes range from 80mm (3") to 300mm (12"). Sykes Olympic 150mm (6") pump can save up to 340 litres of fuel per week.