Super Hygienic Process Pumps
Jabsco launched brand new additions to their Hy~Line stainless steel rotary lobe pump range at ACHEMA 2003. The new '7-Size' Hy~Line models, LH720, 740 and 760 are specifically designed for applications where higher flow rates up to 1800 litres per minute are required.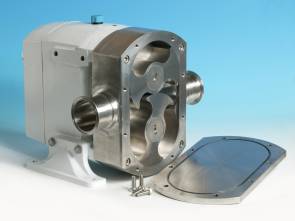 Hy~Line stainless steel rotary lobe pump (source: Jabsco)
Depending on the configuration, pressures from 5 to 15 bar can be achieved with working temperatures up to 150O C. They join the existing family of Hy~Line pumps which currently offer flow rates from 52 to 684 litres per minute, 15 bar pressures and the capability of handling viscosities from 1 to 1,000,000 cP.
Hy~Line models not only conform to US FDA/3A construction requirements but are certified to EHEDG standards, providing an exceptional level of cleanability, hygiene and sterilisability. In fact, in recent tests, they were proved to be cleaner than a piece of straight pipe! They are ideal for applications where finished product quality and process integrity is paramount. A very wide variety of liquids can be pumped, from water-like media to highly viscous, non-Newtonian products such as yoghurts, batters, oils, emulsions and syrups.
In operational terms the Hy~Line range combines fast and reliable CIP / SIP and their modular design ensures low maintenance costs and a long working life. They feature precision 'scimitar bi-wing' rotors that eliminate the need to synchronise or 'time' the pump shafts and a choice of seal options and elastomers can be used to customize the pumps for specific fluid characteristics.