Sulzer to Supply Extensive Pump Package for Sohar IWP, a New Reverse Osmosis Desalination Plant in Oman
Sohar SWRO Company LLC, an Omani company led by Valoriza Agua (Spain) and Bahwan Engineering Co (Oman), is the EPC Contractor for Sohar IWP and has signed several contracts with Sulzer to supply pumps for the new 250 000 m3/day independent desalination plant in Sohar, Oman.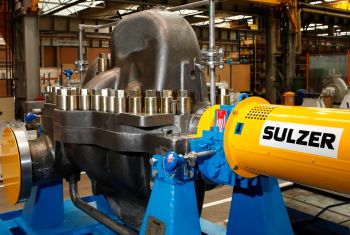 Sulzer Ltd
Commercial operation is scheduled for 2018. The new facility will allow Oman Water and Procurement Company (OPWP), the single buyer of all privately produced power and water in the Sultanate of Oman, to cope with the growing water demand in the North Batinah region.
The contracts include the manufacturing, testing, packaging, and installation supervision of the main centrifugal pumps. Seawater intake for the plant will be provided by Sulzer's three big SJT vertical turbine pumps that will be installed at the nearby industrial port pumping station.
The package also comprises axially split MSD pumps for reverse osmosis membrane high-pressure feed service. High-suction pressure ZF pumps will boost the seawater pressurized in the energy recovery device by the reject brine. In addition, Sulzer will supply its high-efficiency Ahlstar pumps for all other low-pressure applications. In total, Sulzer will deliver 49 pumping units to the new desalination plant.
Sulzer's sales, tendering, and engineering teams from the UK, India, Finland, Spain, and Switzerland gathered a complete centrifugal pump package for the plant. The cutting-edge pumping solutions for reverse osmosis build on more than 25 years of experience in the desalination market.
Energy efficiency was the primary criterion for the pump selection. The Project developer - a consortium led by Valoriza Agua (Spain) and two Omani companies: Oman Brunei Investment Company and Sogex Oman - will operate and maintain the plant for 20 years after its completion. Consequently, the operational expenditures are critical to the profitability of the new venture.