Sulzer: Resilient performance on continued order growth
CEO Greg Poux-Guillaume stated: "Orders in the first three months of 2020 grew 6.5 percent, well above our 2-4 percent guidance and this despite impacts from the global Covid-19 pandemic.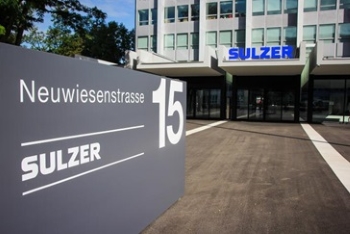 Our strong commercial performance was driven by our resilient aftermarket activities, which represent 45 percent of Sulzer, and by an active market for new pumps in all market segments. We expect the next quarter to be more challenging, as the full effect of country lockdowns is felt. Our low cyclical businesses, which represent two thirds of Sulzer, will be a factor of resilience, as will the decisive cost measures we have launched to adapt to the economic slowdown caused by the pandemic."
In the first three months of 2020, order intake of CHF 994m continued to be strong, growing currency-adjusted by 6.5 percent and organically by 3.2 percent despite the Covid-19 lockdown in China in February and a high baseline due to exceptional water infrastructure orders in the first three months of 2019. Currency translation had a negative impact of 5.5 percent and acquisitions contributed positively by 3.3 percent.
Order intake from the water market decreased by 16.5 percent organically, mainly due to the high comparable in 2019; excluding two exceptional water infrastructure orders of CHF 42m from a year ago, orders in water were up 18.1 percent on strong performance in the municipal water segment. Order intake from oil and gas was up by 24.7 percent organically, with a particularly strong upstream segment. Power orders grew double-digit while chemicals were up 3.3 percent on a currency-adjusted basis, whereas they decreased by 6.9 percent organically, due to a shifting timeline for larger projects in the Chemtech division.
Within the Applicator Systems division, orders from healthcare were significantly up, while dental was negatively impacted by Covid-19 as dental offices only conducted emergency treatments in the second part of the quarter. Order from the adhesives market were flat despite shutdowns in automotive, aerospace and electronics. The beauty segment demonstrated its recovery as orders increased sequentially by 10 percent to CHF 37.6m, despite an abrupt slowdown in March as retailers shut down.
Geographically, order intake grew in the Americas by +14.6 percent organically, with the USA and Brazil as main growth drivers. Europe, the Middle East and Africa was organically flat (currency adjusted +2.1 percent) while Asia-Pacific orders shrunk by 5.3 percent as China and India were down 6.6 percent and 2.4 percent respectively.
Outlook
We expect the commercial impact of the Covid-19 pandemic to be more pronounced in the second quarter on further customer confinement measures, capex cuts in oil and the overall effect of the economic downturn induced by the pandemic.
We entered the second quarter with a high backlog (CHF 1'925m) and a strong liquidity position, which will give us ample flexibility to mitigate risks caused by market disruptions. In addition, we have already initiated decisive adapt measures to protect our business and to continue delivering in a challenging market environment. 2020 CAPEX will be cut by CHF 60m, down to our CHF 70m plants and equipment maintenance CAPEX. 2020 OPEX will also be reduced by CHF 60m through a combination of temporary and structural measures. High oil stocks and lower demand will depress oil prices well into 2021, delaying new projects. Sulzer will correspondingly reduce its Energy capacity by one third, through structural measures predominantly in Pumps Equipment but also impacting group structures.
We expect most of our markets to recover with the global economy beyond Covid-19 as two thirds of Sulzer is low cyclical, including almost half of Sulzer in aftermarket activities. It is too early to assess the profound 2020 impact from the pandemic, not only on our business but on economies. As such, we withdraw our 2020 guidance, which excluded potential impacts of the pandemic.