Sulzer Pumps Launches the New SMD Water Pump
Sulzer Pumps has developed a complete new range of SMD pumps designed for raw and clean water applications. These new axially split pumps represent the evolution of Sulzer Pumps' traditional SM and SMN pump series.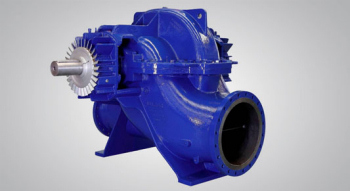 SMD Water Pump (Sulzer)
The SMD is designed with the tightest technical specifications in mind, and meets the highest levels of efficiency and suction performance for current and future process demands. In addition, customers benefit from a more robust, long lasting, and easy-to-maintain pump.
The new pumps are ideal for high volume applications, such as water intake, water treatment, water transport and municipal supply, as well as for distribution of heating and cooling in residential and industrial systems. SMD pumps also provide advantages for desalination systems, both Reverse Osmosis (RO) and Multi-Effect-Distillation (MED) plants. Furthermore, they meet the demands of firefighting, irrigation and drainage applications, which require the highly efficient performance of axially split casing, double suction pumps.
The innovative design of the new SMD pumps provides for a longer life-cycle, greater reliability and cost efficiency. The compact hydraulic dimensions, with fewer parts, contribute to more cost-effective manufacturing processes. By providing the optimum hydraulic fit for each duty point, SMD pumps help reduce energy consumption and deliver greater hydraulic performance over a wide range of flows. They also offer exceptional suction performance with low NPSH required, which, in turn, provides increased flexibility when planning pumping stations with sustained high efficiency levels. With improved hydraulic design, the pumps work at lowest vibration levels for longer bearing life. In addition, the bearing span is minimized and the casing thickness is optimized to help ensure lower weight and improve mechanical reliability.
Sulzer Pumps offers a standard range of SMD pumps available in 20 sizes, each size including a minimum of two hydraulic options achieved through exchangeable impellers. This solution optimizes product and inventory costs. Extended hydraulic coverage is possible upon request. Because the SMD pumps have fewer parts with extensive interchangeability, customers can reduce inventory levels and benefit from faster delivery of parts as needed. Vertical installation is a standard option with the same upper and lower casing parts. The mechanical design allows for easy maintenance and reduces maintenance time during shutdowns. For example, bearings and mechanical seals can be replaced without removing the upper casing.
The SMD pump was developed at the product design center in Winterthur, Switzerland, in close cooperation with Sulzer Pumps' global manufacturing locations.