Sulzer Pumps Introduces the ABS Flow Booster XSB
The low speed submersible mixer ABS flow booster XSB from Sulzer Pumps may be the biggest of its type on the market for water treatment, yet it cuts energy consumption by a remarkable 25%.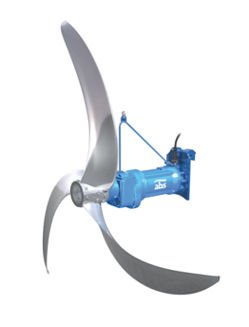 The low speed submersible mixer ABS flow booster XSB from Sulzer Pumps (Image: Sulzer Pumps)
It achieves this through a premium-efficiency motor, a highly efficient gearbox and a innovative design that boosts mixer efficiency, as proven by long and exhaustive testing. Therefore the carbon footprint of users is also cut significantly.
With a maximum thrust of more than 6400 N from the 3-blade model, one mixer is now sufficient in most cases where two were required before. Moreover, as the blades can be separated easily from the hub, this facilitates mixer transport, installation and maintenance.
The ABS flow booster XSB represents the third phase of the ABS EffeX Revolution along with the ABS pump controller PC 441, following the introduction of the superior ABS EffeX range of submersible sewage pumps, and the ABS submersible mixer XRW.
Reliability
The better design of the ABS flow booster XSB reduces wear and tear and vibration. Its premium-efficiency motor is very dependable and the special and patented mounting pedestal stabilizes mixer operation.
The robust 3-stage helical gearbox provides high efficiency and very long operating life because of its new strong oil-lubricated bearing configuration with a calculated lifetime of more than 100 000 h. The fatigue strength helical gears allow numerous reduction ratios and were specially developed for this mixer.
A further important protective feature of the low speed mixer is a Di moisture probe to continuously monitor the presence of any moisture ingress through the seal. Should this happen an inspection alert is signalled.