Sulzer Opens Dedicated Repair Center for the Rail Industry
Sulzer is enhancing its rail repair capabilities by opening a Rail Competence Center in a new and dedicated facility, which will be located on the same site as the existing Nottingham Service Center. The primary objective of the center is to support the current and future customer demands by offering increased production capacity and enhanced reliability.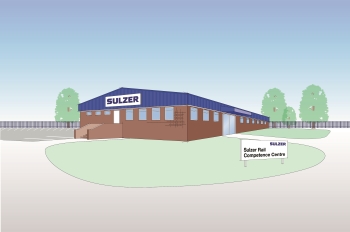 An architect's impression of Sulzer's new Rail Competence Center. (Image: Sulzer)
Repairs to generators, motors, automatic voltage regulators and other auxiliary equipment used in the rail sector are subject to rigorous quality control and traceability, which requires considerable organization and record maintenance. The new facility will continue to deliver the high-quality repairs demanded by the industry and the improved process efficiency will allow capacity to be expanded.
Paul Keely has recently been appointed as the Auxiliary Traction Department Manager and has considerable experience in delivering engineering solutions to the rail industry. As Technical Director and Managing Director of two generator manufacturers supplying the rail industry, Paul has the expertise required to manage the many and varied projects that typify the rail sector.
In addition, Keith Else has taken on the role of production manager for the rail competence center. He is an experienced and professional general manager with a solid track record of successful business development and managing major contracts. He has an excellent knowledge of engineering within the rotating equipment industry and brings strong commercial awareness and business acumen to the venture.
The existing Nottingham facility has, over a number of years, been working with operators, end-users and OEMs to fully understand and identify common causes of failure within service-life expectancy. This work has led to a number of tailored solutions to improve the reliability, enabling customers to achieve the expected, rail industry, operating schedules.
Sulzer offers a comprehensive package of repair and service solutions to the UK rail sector including bogie reclamation, traction motors, chokes and transformers, to name but a few. This latest investment highlights Sulzer's commitment to the rail industry.
Paul Keely, comments: "I am really excited to lead this project and to assist our customers in achieving and exceeding their expectations, when it comes to quality and service. The facility gives us all a fantastic opportunity to maximize our success."