Sulzer Officially Opens Gas Turbine Driven Pump Test Facility
Sulzer have invested over $3 million at their plant in Leeds (UK) to upgrade the existing gas turbine driven equipment test bed to be capable of running units up to 30 MW (i.e. Rolls Royce RB211) at full load.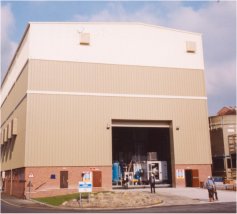 This key investment further strengthens their position as the world leader for building, packaging and testing large centrifugal pumps for the oil and gas market. In addition to pumps, compressors can also be tested in the new building.
The ability for a pump manufacturer to build and test 30 MW gas turbine driven pumps on their own premises and under their own control is totally unique and will meet the oil companies growing need for larger, higher pressure pumps to be fully string tested before shipment, often to remote locations.
The new building 62mx23mx20m high has replaced a pre-existing facility and will allows up to 2 x 30 MW and 1 x 10MW gas turbine driven sets to be assembled at the same time inside it.
The freestanding steel framed building has been carefully designed to control noise emissions for the local environment. Two 60 tonne cranes have been installed allowing even the largest equipment packages to be lifted. Two freestanding cooling towers allow heat dissipation from the equipment. A permanent exhaust system 2.5m X 40m long terminating in a silencer has been to control the output from the building.
Ton Büchner, the President of the Sulzer Pump Division, officially opened the new facility on Thursday 16th October. The ceremony was performed in front of the 350+ site workforce and over 50 customers who had travelled from as far as the USA to see the new facility.