Sulzer Introduces the Latest Addition to the Submersible Dewatering XJ Pump Range
In 2012, Sulzer introduced the XJ series of submersible dewatering pumps with outstanding hydraulic performance, increased wear resistance and high-efficiency motors. The XJ 900 is a performance range extension of the XJ series pumps.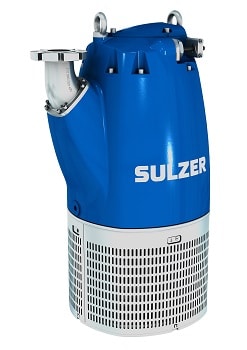 XJ 900 (Image source: Sulzer)
Like all Sulzer submersible drainage pumps, the new XJ 900 offers an economical and reliable option for dewatering applications. Whether working in mining, tunneling or construction, the Sulzer pumps are a valuable asset against water-related downtime.
The new pump is equipped with a high-efficiency electric motor rated 90 kW for 50 Hz markets and 108 kW (145 hp) for 60 Hz markets. The high-efficiency IE3 motor and new hydraulics combined with low-friction bearings reduce power losses. As a result, the total energy costs are low, and the carbon footprint is reduced. The unique hydraulic design allows for easy conversion between high-head and high-flow configurations. This makes it possible to stock fewer pumps and still have the right hydraulic performance for the job.