Sulzer Improves Energy Efficiency in Statoil's Sleipner Field
Sulzer's Customer Support Services in Leeds (UK) recently won a contract for a retrofit-upgrade programme in Statoil's Sleipner gas field based on their ability to achieve a much higher performance in a series of replacement cartridge pumps.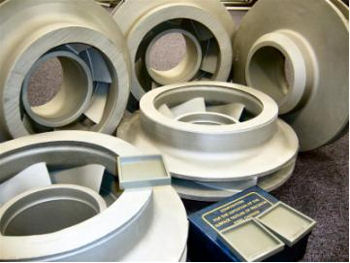 Fast-manufacture impellers with surface finished assessed using ASTM A802 tactile comparators (Image: Sulzer)
This confidence is a result of the development work carried out at Castings Technology International (Cti), with whom Sulzer has cooperated for several years. Cti has manufactured aftermarket impellers for Sulzer during the development of a breakthrough fast-manufacturing impeller technology. Impellers and diffusers of high surface quality (5micrometer) and dimensional accuracy (ISO 8062 DCTG5) can be consistently attained, leading to minimal machining and less finishing of hydraulic surfaces, reduced weight and improved balance, and higher pumping efficiency.
To meet the needs of the programme, Cti had to manufacture 16 impellers, each weighing 45kg, in ASTM A-995 Grade 5A, a nitrogen-alloyed duplex stainless steel. However, to supply the impellers for use in Norwegian oilfields, Cti needed to gain full NORSOK accreditation to the M-650 standard within the short manufacturing timeframe. To the credit of Cti's material and manufacturing expertise, full approval was achieved and the programme was completed meeting the performance expectations of both Sulzer and Statoil.
With the first pump now in service, site testing reveals an improvement in pump absorbed efficiency from 75% to 84%, saving 10% on the power demand. Improved efficiency from superior finish and accuracy of dimensions from Cti castings were just some of the tools the Sulzer Retrofit team used in re-designing the pump to give approximately double the anticipated benefit in performance.