Suction lines for (almost) any application
JESCO Dosiertechnik, one of the leading manufacturers worldwide of components, systems and accessories of metering, conveying and measuring & control technology for water and waste water treatment introduces its extended suction line program.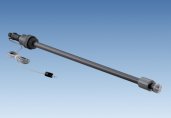 Suction lines with integrated level control (source: JESCO)
Suction Line / Level Control
When the metering process is started, the connection between metering pump and primed medium must be perfect. Furthermore it must be avoided that the medium level in the supply tank is so low that the pump runs dry or switches off.
Suction lines from JESCO are easy-to-use fittings for connecting a pump with the medium to be metered on the suction side. Their most important functional element is a foot valve which prevents the primed medium from flowing back and thus supports the metering pump to operate perfectly or enables it to deliver small flow rate at all. To protect the valves, a suction filter is provided. Flexible or rigid suction lines adjustable to the required length are available with integrated level control for low-liquid-level alarm signaling and protection against dry operation.
Pure level controls based on the same function are also available. These can be connected directly to a solenoid metering pump or microprocessor-controlled metering pumps without interposing a level relay.
Suction lines for non-returnable containers with (K-60) screw cover consist of a suction pipe without valve and a simple low level indication. A foot valve can be fitted upon request. The remarkable thing about this type - with foot valve - is that, due to a special suction stub, no air can enter the suction line. Thus priming problems do not occur when restarting the metering pump.
New
The program is completed by new drum or container suction lines for high througput rates. They allow to exchange drums and containers very easily in next to no time without affecting the gas tightness.