Success in New Markets for Chemical Resistant High Performance Pump
The Flojet ATEX approved G70 Series air operated diaphragm pump from global water technology provider Xylem Inc. enjoys significant market share in many niche industrial markets worldwide.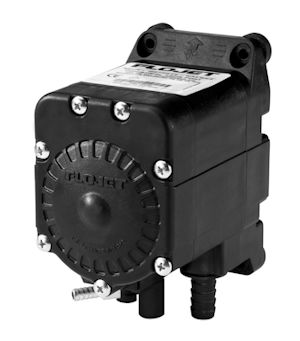 Flojet ATEX approved G70 Series (Image: Xylem)
Sales have surged further in the past 18 months on the back of recent product upgrades, including the addition of Kalrez diaphragms and ATEX approval, reports the company.
The Flojet G70 Series ATEX approved Kalrez air operated diaphragm pump features unique spring loaded check valves to form a strong seal and create a high vacuum capability while processing liquids at up to 18.9 litres per minute (5 GPM) easily. This air or CO2 operated double diaphragm pump now features Kalrez perfluoroelastomer diaphragms, which are resistant to over 1,800 different chemicals, yet remain stable under high temperatures, making it suitable for an exceptionally wide number of different applications including ink transfer and dispense, parts washing and car wash detergent dispense systems. The G70 Series is manufactured from corrosion-resistant materials, weighs a mere 0.54kg and has quick connect ports for easy installation. Further features include self-priming up to 4.5m and a choice of liquid inlet/outlet ports from 10 – 19.1 mm. It operates on air supply pressure of 1-6 Bar.
David Webber, Director Global Industrial Marketing & Americas/Asia Product Management at Xylem comments: "Since 2010, the Flojet G70 series ATEX pump has been successfully gaining market share, particularly in cleaning/washdown equipment manufacturing, where it is used in such products as spray gun cleaners and washing devices which handle solvents. ATEX approved air pumps are a major seller in this market and the G70 Series double diaphragm pump offers the longest warranty, highest fluid delivery and lowest air consumption."