Success for Voith in Austria and Norway
Voith has recently received an order for a hydropower plant in Norway and also successfully concluded two hydropower projects in Austria. The order for equipping Braskereidfoss power plant at the Glomma River in South Norway - the country s widest and longest inland waterway - has a volume of about 18 million Euros and constitutes a joint project by the Voith Hydro companies in Norway and Austria.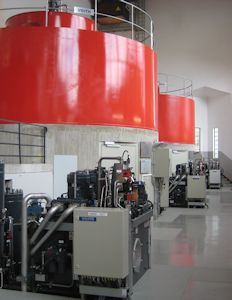 The new Voith equipment at Pernegg power plant. The original turbines from 1927 were also supplied by Voith. (Image: Voith)
Voith will deliver the complete generator-turbine unit with an output of 15.7 megawatts including all automation systems. The new unit will be built directly alongside an existing power plant and can therefore utilize the existing infrastructures.
Voith has also successfully concluded its extensive contracts for the hydropower stations Sohlstufe Lehen and Pernegg in Austria: once commissioned they will produce clean and climate-friendly electricity for the annual supply of some 58,000 households. In the new hydro-electric plant Sohlstufe Lehen Voith in Sankt Pölten has installed two underground Kaplan-machine sets rated at 7.2 megawatts each, including the synchronous generators and the complete electro-mechanical equipment.
After more than 80 years of reliable service, the run-of-river plant "Pernegg an der Mur" has been thoroughly modernized. Voith has delivered three new generators, Kaplan turbines and all associated control systems for the project. The original turbines of the hydropower plant dating back to 1927 - at the time the most powerful run-of-river plant in Austria - had been built by Voith in St. Pölten as well and provided over 600,000 hours of reliable service during their more than 80 years of operation.