SPX Reliable Pump Solutions for Tank Loading/Unloading
Plenty Mirrlees Twinro pumps are ideal for the bulk transfer of liquids between tanks or to/from a process and are designed for economical, reliable and safe operation. The screw form and shaft are of one piece construction to maximize accuracy and reduce deflection even at high discharge pressure.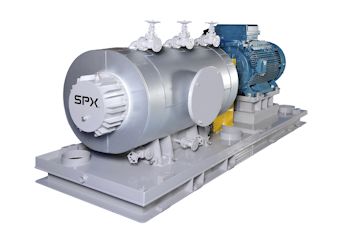 SPX
The precisely machined, accurate screw profile ensures high volumetric efficiency and low running costs. The screwset is designed so that the screws intermesh without metallic contact, making the pump suitable for non-lubricating duties. The hydraulic balance of the unit further provides a smooth axial pulse free flow, producing low noise and low vibration when operating.
Designed to maintain plant safety, Plenty Twinro pumps have a built-in full flow relief valve for pump protection with rapid opening, damped closing and no destructive pressure surges.
To help maximize plant efficiency, the Twinro pumps can handle dry start and stop conditions for a limited period to enable complete loading or unloading of tanks. The pumps are self-priming and a liquid weir in the suction port chamber keeps the screwset wetted for dry start. The pumps are also available with seal face lubrication to reduce the risk of seal face heat damage on dry running start ups.
Plenty Twinro pumps can be supplied in accordance with the requirements of API 676 and their design is based on SPX's decades of experience in serving the oil and petrochemical industries. The pumps have proven safe, economical, efficient performance with a large installed base within global tank loading/offloading applications. They can be supplied in formats from bare shafts to complete packages with pumps, motors, base plates, common skids, filters and differential pressure gauges. SPX will further customize the Plenty Twinro pumps to exact customer requirements, including the relocation of suction and discharge nozzles, specific design for confined space, multiple units provided on a single mounting plate for easy installation, or the provision of a special seal or heating jacket.