SPX Process Equipment's Investment in Health and Safety Pays Off
SPX Process Equipment has announced that it has achieved accreditation to the internationally recognised standard BS OHSAS 18001: 2007 for its Brixworth and Macclesfield operations.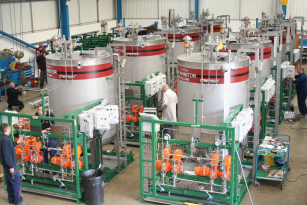 SPX Process Equipment
Gaining accreditation to BS OHSAS 18001 is a significant achievement for SPX PE, with the Company becoming one of the first in the UK fluid process equipment and systems engineering industry to achieve the standard.
Announcing the development, Steve Digby, Bran + Luebbe UK Sales Manager, said that in several of the industry sectors in which the Company operates, having occupational health and safety management systems in place that conform to specific industry standards is becoming a prerequisite. "SPX PE is one of only a small number of companies to gain this accreditation and I believe that in the pumps and mixers market we are breaking new ground", commented Steve Digby.
"This achievement reinforces the Company's commitment to complying with the standards that are requested of us", he continues. "In terms of quality we have ISO9001:2000 and for the Oil and Gas industry the Company is FPAL (First Point Assessment Ltd) registered, this being the key tool used by Oil and Gas purchasers to identify and select current and potential suppliers when awarding contracts or purchase orders."
According to SPX PE, accreditation to OHSAS 18001 has benefits both for the Company and its customers. Having exacting health and safety practices in place enables the Company to potentially eliminate accidents at work and thereby reduce the associated costs that can influence operating and manufacturing costs. In the competitive markets in which SPX PE operates, customers are looking both for keen pricing and efficient business management from their suppliers.
OHSAS 18001 is a demonstration of a company's commitment to Occupational Health & Safety and is regarded as a central element of management systems. It is a framework which enables companies to consistently identify and control their health and safety risks and reduce the potential for accidents. At SPX PE, the two-year audit programme was directed by Simon Miller, Quality and Safety Systems Engineer. "We had to set out our own objectives under the guidelines of the Standard, in terms of what we wanted to get out of OHSAS 18001 and to ensure that we were continuously measuring ourselves against the standard. Where it was necessary we introduced major new safety regimes and systems," commented Simon Miller. "Lloyds Register set the Company three major audit stages and throughout these every aspect of the safety management system was inspected for thoroughness and we had to equal, or better, every clause within the standard."
SPX Corporation
SPX Corporation is a Fortune 500, global multi-industry manufacturing company. Headquartered in Charlotte, North Carolina, SPX employs more than 17,000 people worldwide and has operations in over 40 countries.