SPX Flow Power Team Announces a New Cordless Hydraulic Battery Pump
SPX Flow Hydraulic Technologies, a worldwide leader in hydraulic pumps and tools, has broadened its hydraulic power pump range with the addition of the PB Series Cordless Battery Hydraulic Battery Pumps to its portfolio.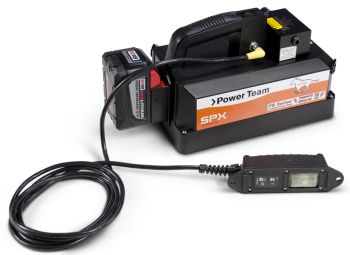 SPX Flow
The new PB Series Cordless Hydraulic Battery Pump was specifically engineered to meet the market demand with increased portability, longer run-time, larger valve selection and remote "plug-play" control options for a wide range of high-pressure tool applications.
Powered by a Li-Ion 18VDC 9.0 Ah battery pack, the PB Series pump features a two stage, compact high-pressure hydraulic pump for quick tool advancement and setup in the first stage. A self-contained, rubber bladder reservoir enables pump usage in many positions with an impressive capacity of 1,1 litres usable oil. The quiet, smooth running, serviceable brushed 18VDC motor and other pump components are shelled with a high impact plastic, fiberglass reinforced shroud that protects your investment in some of the most demanding and harsh applications. The pump is extremely lightweight; only 11 kg, making it easier to handle those tight constraints and remote applications in order to get the job done quickly.
To promote better handling and ergonomics, the pump is equipped with an integrated molded rubber handle and a shoulder strap to reduce operator hand fatigue during use and transport. "Equipment operators will appreciate the portability and freedom of the PB Series cordless power for most maintenance, repair and operation (MRO) 700 bar hydraulic applications", said Aaron Sztuk, Director of Product Management - SPX Flow Hydraulic Technologies. "Whether it is a spreading, nut splitting, lifting, bending, cutting or crimping application, the Power Team PB Series Hydraulic Pumps delivers the performance to improve productivity while keeping safety in mind".