SPX Flow Held Channel Partner Training Event in the Middle East
As part of a continuing programme of partnership and enablement, SPX Flow has held another highly successful Channel Partner training event, this time in the Middle East. Channel Partners are an imperative part of the company s growth strategy and, throughout the Middle East, its wide network offers essential, efficient support to local customers. The training event, held in Dubai, was a valuable opportunity for partners to gain valuable technical and application knowledge from SPX Flow specialists.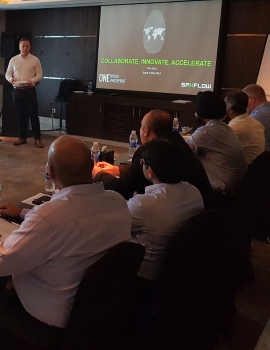 SPX Flow Held Channel Partner Training Event in Dubai (Image: SPX Flow)
Attendees of the three-day event came from eight different channel partners, covering Egypt, Jordon, Kingdom of Saudi Arabia, Lebanon and United Arab Emirates. Alongside technical training, there was opportunity for networking and deeper understanding of the direction and goals for the SPX Flow Food & Beverage business within EMEA.
Tom Cork, Channel Manager, Food & Beverage EMEA, said, "The training was highly successful and well received by our partners. Channel enablement is a critical part of our partner strategy and, during the week, we were challenging them to 'think differently' to ensure customers get more than just products but innovative solutions and tangible value for their businesses."
Enablement is the action of giving someone the authority and means to do something and this is exactly how the SPX Flow partner program operates. The training in Dubai covered the comprehensive range of APV brand components including pumps, valves, homogenisers and UHT technology, along with Waukesha Cherry-Burrell pumps and Seital Separation technologies.
Tom went on to say, "SPX Flow dedicates significant resource to providing truly global support with a strong local presence and these training events are part of this commitment. They help ensure our Channel Partners are fully trained to support, service and handle any enquiry. We are actively working to further strengthen our support reach and responsiveness with our Partner Programme to help ensure our customers processes continue to run smoothly and reliably, wherever they are in the world."
SPX Flow have a long history and strong relationship with the Food & Beverage industry and is committed to growth within the EMEA region. Partners have access to a vast range of technology and expertise to ensure they offer first-class support to customers at every stage of their process lifecycle.
Allan Geisshirt, Sales Director, Food & Beverage MEA, commented, "When it comes to Food & Beverage processing, SPX Flow is a leader and innovator in the industry. Channel Partners are an integral part of our strategy for growth and commitment to help ensure our customers are well supported and processes optimised. We are looking to further expand our presence in the Middle East with agents, distributors and system integrators to promote our product range and hope that the success of our current partners will lead to new partnerships in this region."