Someflu Introduces Plastic Process Pump for Phosphate Fertilizer Industry
With the aim to answer the international market requirements in the mining area, Someflu realizes the manufacture of 72 pumps for the most part, completely made of ultra high molecular weight Polyethylene Somedur (molar mass > 9.2 millions g/mol), which may be up to 1500 m3/h.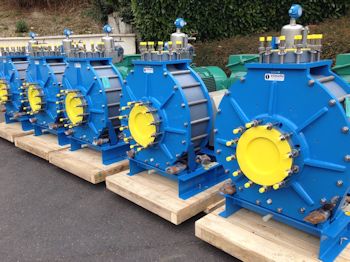 Centrifugal pump made of UHMW PE - SOMEDUR®, for corrosive and abrasive applications. (Image: Someflu)
Used for handle corrosive and abrasive fluids (containing silica), for tough conditions and environments, those pumps are equipped with double mechanical seal with lubrication bottle, driven by 315kW motors, also equipped with sensors and frequency converters. These motor pump groups are reaching 3.5 tons.
Plastic components outside the norms, hydraulic completely made of Somedur, machined from a massive block material, with extra-large dimensions. The impeller is machined from a large diameter roll of 500mm and a height of 420mm (moulded upon a metallic insert), and a volute casing with a diameter bigger than 1 meter and a thickness reaching 450mm.