SMVP Pumps Provide Seal-Less, Mag-Drive Design Advantages In Soap & Detergents Applications
30.04.2010
Blackmer announces that the design of its SMVP Series Sliding Vane Pumps combines the energy-efficiency and life-cycle advantages of its sliding-vane technology with a seal-less magnetic coupling.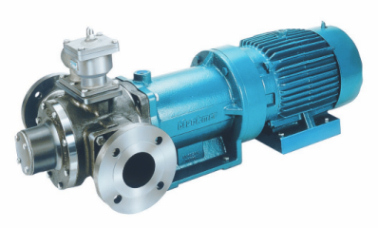 SMVP Pump (Photo: Blackmer)
The SMVP offers zero shaft leakage when dealing with hard-to-seal surfactants, fatty acids and oils, glycerin, builders, additives, concentrated dyes, expensive fragrances and other fine chemicals.
Blackmer's SMVP Series pumps are available in six models: SMVP15, SMVP30, SMVP50, SMVP100 and SMVP200. Flow rates range from 4 to 215 U.S. gpm (15 to 813 lpm) with an operating temperature range of -40°F to 200°F (-40°C to 96°C) and viscosity range up to 5,250 cP (25,000 ssu). SMVP pumps offer the best combined characteristics of sustained high-level performance, energy efficiency, trouble-free operation and low maintenance cost.
The SMVP seal-less pump models have a unique bearing and head design that allows a small quantity of pumpage to circulate through the containment can and bearing surfaces. This positive flow of fluid minimizes temperature rise for maximum bearing life. Seal-less pump models are also equipped with samarium-cobalt magnets as standard construction. This rare earth material prevents permanent magnet degradation if adverse operating or "break-free" conditions occur.