Smart Shaft Grounding Product Portfolio from Inpro/Seal Provides Comprehensive Bearing Protection
To meet the growing need for protection against electrical discharge machining (EDM), Inpro/Seal has updated and expanded its portfolio of shaft grounding solutions. Smart Shaft Grounding from Inpro/Seal combines proven Current Diverter Ring technology with innovative new features to increase reliability and decrease maintenance costs.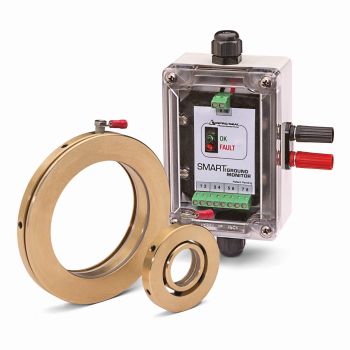 Smart Shaft Grounding (Image: Inpro/Seal)
The use of variable frequency drives (VFDs) continues to expand due to their ability to reduce energy consumption and generate significant cost savings, but VFDs also induce high frequency voltages on the shaft that can damage bearings as they seek a path to ground. With the Smart Shaft Grounding product portfolio, Inpro/Seal increases motor reliability by providing voltages a low impedance path to ground away from the bearings while monitoring grounding effectiveness.
The Smart Shaft Grounding product portfolio, consisting of the Smart CDR, Smart MGS and Smart Ground Monitor™, addresses key limitations of existing shaft grounding technologies. Most notably, Inpro/Seal Smart Shaft Grounding provides permanent protection from conduction-inhibiting shaft oxidation and offers continuous monitoring and feedback of shaft grounding performance. With proprietary conductive filaments and an innovative bearing-bronze sleeve design, the Smart CDR outperforms and outlasts other grounding rings. The Smart MGS integrates Current Diverter Ring technology and the patented VBXX® Bearing Isolator to protect against contamination ingress and lubrication loss as well as stray currents. Isolated conductive filaments and a zero-maintenance conductive bronze rotor – unique to Inpro/Seal – provide premium connectivity in harsh conditions.
To further ensure reliability and provide peace of mind, the Smart Ground Monitor alerts users in real time of non-optimal contact between the filaments and shaft. Contact is measured through the Smart Terminal that comes standard on every Smart CDR and Smart MGS. Smart Shaft Grounding solutions meet NEMA MG1 31.4.4.3 and CSI 23 05 13 specifications and are available in standard sizes or custom engineered solutions.