Sliding Vane Pumps Provide Efficient Product Transfer in Liquid-Storage Terminals
17.06.2010
Blackmer has announced that its NP Series Sliding Vane Pumps have been designed to provide efficient transfer for a wide variety of liquid-terminal operations. NP Series pumps are ideal for liquid-storage terminal applications such as loading and unloading, transfer, mixing and blending.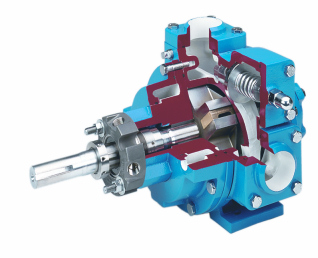 Blackmer NP Series Sliding Vane Pump
The NP Series pumps can meet the needs of these demanding applications because they have been designed for the handling of clean, non-corrosive liquids at varying temperatures, pressures and viscosities. NP pumps offer maximum versatility while sustaining a high-level of performance and trouble-free operation.
NP Series pumps are available in five sizes, with port sizes from 1.5 to 4-inch. They feature flow rates from 5 to 500 gpm (19 to 1,893 lpm) at operating temperatures up to 500°F (260°C). They can handle viscosities ranging from 30 to 20,000 ssu (4,250 cP) at differential pressures up to 150 psi (10.3 bar) with standard construction. With optional materials, maximum viscosities can go to 100,000 ssu (22,000 cP) and differential pressures up to 200 PSI (13.8 bar).
Also available in stainless-steel construction, the SNP Series are ideal for handling a variety of corrosive or caustic fluids. SNP pumps are available in five port sizes from 1-1/4 to 3-inch with capacities from 2 to 265 gpm (8 to 1,003 lpm). All SNP pumps can handle fluid viscosities in excess of 20,000 ssu (4,250 cP) at working pressures to 150 psi (10.3 bar) and temperatures to 350°F (177°C).
Both the NP and SNP models feature Blackmer's revolutionary sliding-vane-technology principles, which guarantee consistent volumetric-output performance, even after significant in-service time. This eliminates the efficiency-robbing "slip" that shortens lobe and gear pump life, and improves production yields by stripping lines of residual product.