Sliding Vane Pumps Offer the Versatility Necessary in Biodiesel Production
13.01.2011
Blackmer has announced that its NP and SNP Series Sliding Vane Pumps are ideal for a wide array of applications required in biodiesel production and processing.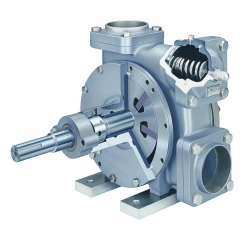 Blackmer SNP Series (Image: Blackmer)
Among these applications are the preparation of the clean/heat filter, mixing of alcohols and catalysts, combining methanol and caustics with oils, transesterification, separation of biodiesel and glycerin, recovery of methanol and glycerin, purification and in-line blending.
The NP and SNP Series pumps are capable of meeting these demands because they offer the flexibility needed to handle clean, non-corrosive liquids at varying temperatures, pressures and viscosities. This allows them to be used in various loading/unloading and transfer applications, while the stainless-steel construction of the SNP model makes its ideal for handling a variety of corrosive or caustic fluids, which is a crucial consideration in the manufacture and shipping of biodiesel.
NP Series pumps are available in five sizes, with port sizes from 1.5" to 4". They feature flow rates from 5 to 500 gpm (19 to 1,893 lpm) at operating temperatures up to 500°F (260°C). They can handle viscosities ranging from 30 to 100,000 ssu (1 to 21,000 cSt) at differential pressures up to 200 psi (13.8 bar). SNP pumps are available in five port sizes from 1-1/4" to 3" with capacities from 2 to 265 gpm (8 to 1,003 lpm). All SNP pumps can handle fluid viscosities in excess of 20,000 ssu (4,250 cSt) at working pressures to 200 psi (13.8 bar) and temperatures to 350°F (177°C).
These pump models also benefit from Blackmer's sliding vane technology, which delivers optimum, reliable performance while delivering energy savings. Maintenance is also easy and cost-effective as worn vanes can be removed and replaced without having to remove the pump from the piping.