Sliding Vane Pumps Able to Handle the Most Demanding Applications in Liquid-Terminal Operations
20.12.2010
Blackmer has announced that its ML and HXL Series Sliding Vane Pumps have been designed to provide consistent reliability even under the most demanding applications for a wide variety of liquid-terminal operations.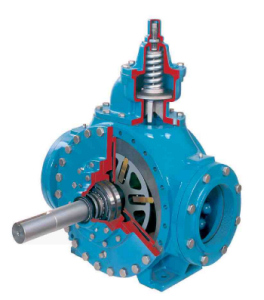 Blackmer ML/HXL Sliding Vane Pump (Image: Blackmer)
ML and HXL Series pumps are ideal for the liquid transfer of products such as petroleum products, diesel fuel, lube oils, bunker C, molasses, resins and solvents—all of which are found within liquid-storage terminal operations.
The ML and XHL Series pumps can meet the strict demands of liquid-terminal operations because they have been designed for high-capacity product transfer, top and bottom loading, and the unloading of liquids. The ML/HXL pumps are ideal for transferring petroleum and other liquid products from transports and aboveground or underground storage tanks to mixers because of their unbeatable suction and self-priming capabilities, which enable them to strip tanks, barges and railcars. They also possess the ability to run dry, which is a useful trait when attempting gravity-fed operations in cold temperatures.
Both the ML and HXL models feature Blackmer's revolutionary sliding-vane-technology principles, which guarantee consistent volumetric-output performance, even after significant in-service time. This eliminates the efficiency-robbing "slip" that shortens lobe and gear pump life, and improves production yields by stripping lines clean of residual product. The ML and HXL Series pumps both provide smooth, sliding vane action without metal-to-metal contact, which reduces pump friction, eliminates galling and minimizes agitation of fluids, resulting in shear-sensitive, mild handling of thin liquids without product degradation. These pumps set the industry standard for low- and medium-viscosity process and transfer applications. ML Series pumps are available in 4-inch with flow rates up to 600 gpm (136 m³/h). HXL Series pumps are available in 6, 8 and 10-inch sizes with flow rates up to 2,300 gpm (522 m³/h).