Siemens Presents Simogear Geared Motors With Integrated Sinamics G110M Inverter
The Siemens Drive Technologies Division is pursuing the integration of drive components and now presents the Sinamics G110M, a distributed inverter designed as a motor-integrated inverter for Simogear geared motors.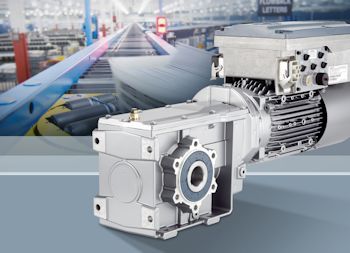 Siemens presents Simogear geared motors with integrated Sinamics G110M frequency inverter. (Image: Siemens)
The result is an Integrated Drive System (IDS) that is characterized by its space-saving design, and is easy to install. The optimal interplay of the Simogear geared motors with the new, motor-integrated inverters provides a high level of efficiency and functionality, particularly for conveyor applications.
Also as integrated drive systems, Simogear geared motors demonstrate their true strengths (like high power density, refined torque levels and a high efficiency). In combination with Simogear, the Sinamics G110M is delivered fully pre-configured ex works. The new inverter with high degree of protection up to IP66 in turn allows versatile use of the compact system and enhances its functional scope. The Sinamics G110M is a modular system that is simple to install, child s play to commission and easy to operate. Pluggable connections for all input/outputs facilitate installation. Cabling is reduced by looping through the 400 VAC, 24 VDC and communication signals. Moreover, the inverter excels with its comprehensive and simple-to-use diagnostic features, plus an integrated braking resistor. Based on the integrated functionality ("Quick Stop" and limit switch function, for example), the inverter is ideally suited to conveyor applications.
For applications that require safety technology, the Sinamics G110M offers the integrated safety function "Safe Torque Off, STO", which can be activated via a fail-safe input and via Profisafe without the need for further components. The motor-integrated inverter comes with integral USS/Modbus RTU, Profibus and Profinet/Ethernet IP communication profiles. It is directly incorporated in the Totally Integrated Automation Portal and thus offers the entire system (comprising motor and inverter) all the benefits that automation and drive technology has to offer for integrated engineering.