Severe Service Valve Sales to the Chemical Industry will be just under $4 Billion in 2017
Severe service valves are required for 56 percent of all the valve applications in the chemical industry. The definition of severe service includes valves which are subject to abrasion, corrosion, unusual pressures, or must be designed to meet stringent safety, sanitation, or contamination requirements.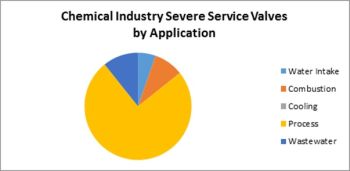 McIlvaine
Severe service valves are required for 75 percent of the process applications. Since the process segment accounts for 63 percent of all the valves sold to the chemical industry, the process severe service valves account for 42 percent of all the valves sold to the industry.
Water used for cooling requires virtually no use of severe service valves. Only 30 percent of the water intake valves are in the severe service category. About half the wastewater valves are designed for severe service. These are valves handling the slurry.
In 2017, the sales of severe service valves for processes will be just under $3 billion with the balance of $1 billion in the other three categories.
The percentages are based on revenues rather than amount of flow or the number of valve units. While severe service valves will account for 56 percent of the revenue, they will account for less than 30 percent of the flow and 20 percent of the unit sales.