Selwood Launches New Pumps
For the second year running Selwood has launched a new range of pumps and for 2004 a further seven models have been introduced to the market. Five of these are new Super Silent versions ...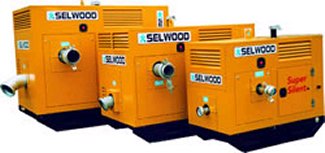 ... and as Managing Director Kevin Bright commented, "these Super Silent units are quite revolutionary and we believe these are quite comprehensively the quietest diesel pumps available on the market today."
These new pumps will allow the company to target new markets with specific pumps ideal for certain applications. The D80 and D100, available as either open or Super Silent sets, are compact and cost effective 3" and 4" pumps ideal for Rental, Utility Contractors and Civil Engineering companies. With the new versions Selwood will be able to target many applications in noise sensitive areas with the Super Silent units operating at full speed and load having noise levels as low as 58db(A).
The Selwood Seltorque range, world renowned for its solids handling capabilities, has two new additions, the S200 and S300. These pumps are ideal for high volume pumping with solids handling, especially with water authorities and environmental applications. The new Super Silent H125 is the pump for high head applications in the industrial and drilling sectors with pressures of up to 12 bar achievable and complements the high head H100 and H150 used in quarries and landfill.
At the same time all the pumps in the Selwood range have now been re-designated to provide a more simplified method of identifying the best pump for each application. There are now five Selwood ranges of pumps:
Positive Displacement
Solids Handling
Drainage
High Head
Hydraulic Submersibles
Kevin Bright added "Further improvements and the introduction of new pumps will continue throughout the year as the company strives to stay ahead of the competition and offer the most comprehensive range of pumps on the market for both sale and hire."