Self-Priming Centrifugal Pumps Enhance Draining of Barges, Railcars and Tank Trucks
Griswold Pump Company has designed its H Series Self-Priming Centrifugal Pumps for use in unloading barges, railcars and tank trucks, with the goal to remove as much of a shipment's "heel" as possible.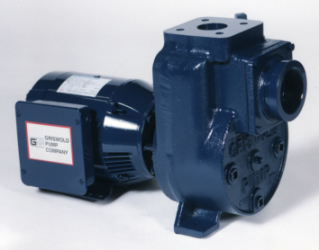 H Series (Photo: Griswold)
The tank heel refers to the amount of liquid remaining in each tank after lowering to the greatest extent possible by use of the existing transfer equipment.
Griswold H Series pumps are able to satisfy the needs of transport unloading due to their self-priming design. As fluid levels drop, the H Series evacuates air as it begins to enter the suction line, improving transport-unloading efficiency. These pumps are available in 3, 5, 7-1/2, 10, 15 and 20-horsepower models with heads up to 270 feet and flow rates to 325 gpm.
Other efficiency-optimizing features of H Series pumps include a closed impeller; a mechanical shaft seal, stationary seal face and rotating seal face that are constructed of the finest materials, resulting in more reliable operation and minimum wear; a heavy-duty case of cast iron that has thick walls to handle rugged operation in adverse conditions; and a heavy-duty rigid bracket that maintains perfect alignment between the pump and the motor.