Self-lubricating Bearings for Dependable Performance
Graphite Metallizing Corp. announces the 117 Series of GRAPHALLOY bushings which deliver dependable performance in high temperature applications. GRAPHALLOY, a graphite/metal alloy, is formed from molten metal, graphite and carbon.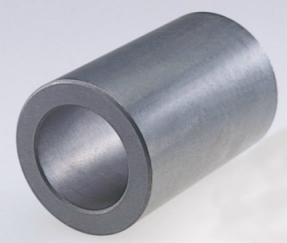 Graphite Metallizing Corp.
It is a uniform, solid, self-lubricating bushing and bearing material. The 117 Series excels in bakery ovens, heat treat furnaces, glass plants, potato chip and bagel factories, dampers, stokers and wherever grease, oil and plastic bushings fail or prove troublesome.
In addition, the 117 Series of GRAPHALLOY bushings provides a convenient, preengineered solution for plant maintenance and new equipment design requirements. The 117 Series is available in two primary grades for high temperatures, both with FDA acceptance as well as for low temperatures.
All GRAPHALLOY products work where oil-based lubricants oxidize or where plastics fail. Many grades are suitable for temperatures to 750°F in air, and special grades provide reliable service up to 1000°F and higher in non-oxidizing atmospheres.