Seepex Updates Service App
Whether spare parts need to be ordered or pump maintenance support is required: SEEPEX Service Point aids technicians locally by reducing their workload and saving time. With the new update published, Service Point now features a series of new improvements.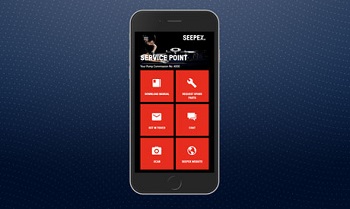 New Seepex service app (Image: Seepex)
Originally, after customers scanned the QR code, Seepex Service Point would open, as designed, in a web browser. Now, as a new feature Service Point is available as an app. The app can be downloaded for free from the well-established Apple and Google app stores. This way, customers can now install the app on their own mobile devices. In addition, Seepex's customers do not need an external QR code scanner anymore. The scanner is integrated into the app, making it even easier to use.
Safe ordering and quick communication
When inquiring about spare parts on the contact form, customers can directly upload images and short videos of their pumps. This makes it easier for on-site technicians to describe their specific questions to Seepex and simplifies communication with the service team. The live chat function is also directly integrated within the app for quick and uncomplicated contact with Seepex.
Furthermore, the number of spare parts packages has been significantly extended. With the identification of parts by means of the QR code or the commission number, technicians can be sure to receive the correct spare or wear part for their units.
Seepex is continually developing the Service Point app to optimize user experience and functionality. This app is available for smartphones and tablets with iOS or Android operating systems and is offered in German, English, French and Chinese.