SEEPEX Sales Organization Evolves
SEEPEX is pleased to announce the new roles of two sales personnel. SEEPEX veteran Bill Martiniere is taking on the role of Chemical Market Manager and Juda Medina is taking on the new role of Inside Sales Representative.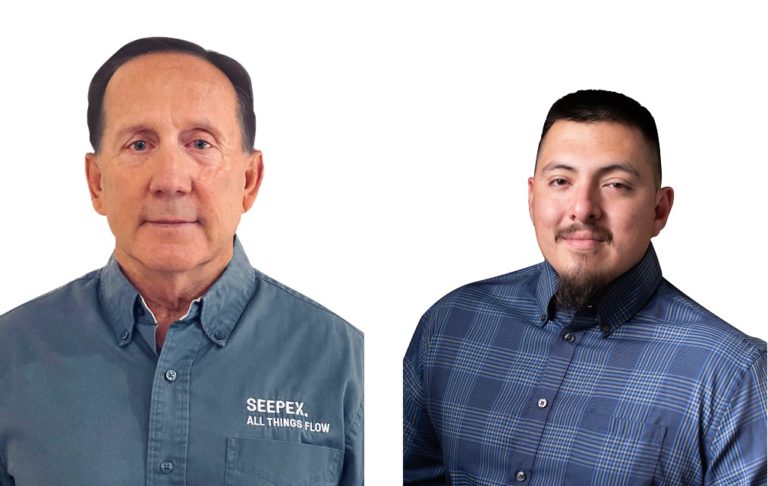 Bill Martiniere and Juda Medina. (Image source: Seepex Inc.)
These specialized roles maximize the skillsets of these individuals. SEEPEX is delighted that Bill and Juda continue to grow and evolve within SEEPEX.
Bill Martiniere, former SEEPEX Regional Sales Manager, is now the SEEPEX Chemical Market Manager. Bill's many years of experience as a system developer, user of chemical metering systems, a successful SEEPEX sales manager, and his educational background, make him an ideal manager to help grow this market sector.  Through his time at SEEPEX Inc., Bill has been successful in establishing relationships in the chemical market, meeting and exceeding targets in sales, as well as providing excellent customer support.  Now, he will be bringing his knowledge and experience to expand the SEEPEX customer base as well as enhance and expand new marketing channels.
Juda Medina has moved into the Inside Sales Representative role at SEEPEX. Previously, Juda had a dual role of Territory Manager and Sales Engineering Specialist. In this new role, Juda will be qualifying leads, supporting SEEPEX channel partners with quotes, setting up opportunities to close on sales, and providing technical information and support. Juda's engineering background and technical knowledge of SEEPEX products makes him a great fit for this position. His product and application knowledge will be a tremendous asset as he takes on this new role.