Scherzinger Goes China
Scherzinger is opening its first production and assembly site in Kunshan, China from April 2012.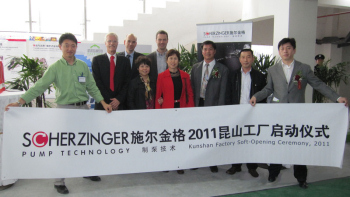 Scherzinger with guests at the inauguration ceremony
With this strategic decision, Scherzinger is consolidating its focus on service in addition to reducing costs. "Some of our main German customers import our pumps to China in order to integrate them in their systems there and resell them in the Chinese market. Every order incurs import and management costs for the customer – although these additional costs could be avoided by direct procurement from our plant in Kunshan," explains Thomas King, Sales Manager.
"We are currently constructing a production and assembly site to allow the pumps to be manufactured directly in China for Chinese customers" explains King. "We also want to use our site in Kunshan to store pumps produced in Germany on site and commission them as required instead of delivering them as single pieces to China with high transport costs as before. Our presence on location with the same language and the same current will enable us to achieve more proximity and trust for our customers," reckons King.
"Scherzinger Pump Technology Kunshan Co, Ltd.", which is the name of the new plant, is led by a German managing director, who has excellent knowledge of the Chinese market. The official opening ceremony took place in Kunshan on November 1st, 2011. After the traditional inauguration ceremony of the building, the premises were inspected and the current state of construction assessed. Erich Willimsky, Managing Director of Scherzinger, summarized, "We are very satisfied with the current situation and are looking forward to the first pumps produced in China".