Sanitary Pulsation Dampeners for Biotech & Food
SENTRY Pulsation dampeners from Blacoh reduce pump pulsation, pipe vibration, and shaking up to 99% and are now available in polished and bead blasted 316L stainless steel surfaces.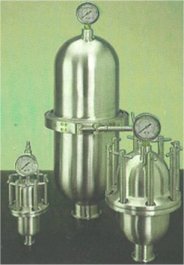 These pulsation dampeners are FDA compliant and ideal for both the biotech and food industries, or with any application that requires sanitary pumping conditions
SENTRY sanitary Pulsation Dampeners feature tri-clamp inlets, autoclave safe wetted parts, and are available from stock with pressure ratings up to 80 PSI (5.52 BAR) and with capacities from 4 cu in (.06L) – 5 gallons (18.93L). Custom models are also available.
Blacoh Fluid Control also offers a complete line of SENTRY® Pulsation Dampeners, Surge Suppressors, and Suction Stabilizers to eliminate pulsation and surge in municipal and industrial pumping applications. Blacoh's Spill-STOP® is a patented spill prevention device for air operated diaphragm pumps. Blacoh Sentinel Diaphragm Seals isolate gauges and other pressure instruments from contamination or corrosion from the process fluid.