Saer Offers Online Pump Selection Software
From now on customers can find the right pump for their needs on www.saerelettropompe.com, thanks to the selection software integrated in the area Pump Advisor.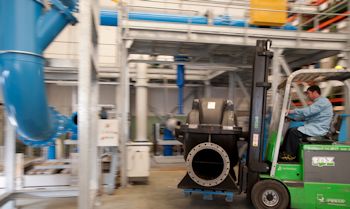 SAER Elettropompe
There user can find among the others the multistage series TMB, TM and TMV, one of the most complete in the pumps field, both for the performances (up to 1000 m³/h 63 bar) and for the impressive quantity of options available:
8 different families
3 different configuration
3 different metallurgies
over 160 different models
All this combined with excellent results in terms of efficiency, reliability and short delivery time. A qualified team of Engineers and Technicians studies tailored solutions according to the application/installation specs; this is the case of the 20 pieces of TMB pumps (horizontal version with radial inlet) that Saer has recently supplied for mobile test units of pressure.
Thanks to the fully centralized production in its five factories in Italy, the Company ensures high quality products, serving its customers promptly with top delivery time for all the wide production.
This philosophy has been applied also to the new series of split casing pumps SKD (available up to DNA 600 DNM 500), with an average delivery time of 4 weeks, among the best on the market.
The range is ideal for any application where high flow is required: irrigation, agriculture, water supply systems, freshwater circulation, freshwater generator, water treatment, HVAC, fire and general services.
Customization isn't a problem: the qualified staff is able to drive in the selection of the best solution for any needs and applications, thanks to the availability of wide choice of materials and configurations (vertical or horizontal version, motors available in different efficiency class and in low or medium voltage, possibility to couple the pumps with diesel engine or hydraulic motor).
News are represented also by the bare shaft pumps NCBK exceeding the standard EN 733, ideal for applications such as recircu-lation and heating systems, conditioning systems, heat recovery, water provision systems, pressurization and fire-fighting units.