Saer: New series 4" High Efficiency NS 96
NS 96 is the new 4" submersible electric high efficiency pump which was developed by SAER, designed to grant the best performances of their range but with reduced dimensions.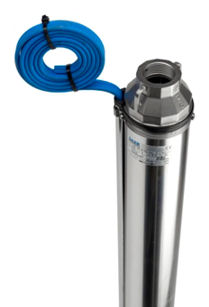 Saer
The configuration was created to facilitate the operations of disassembly, maintenance and assembly.
5 ranges, from 0,37 kW to 5,5 kW, Qmax=12 m3/h Hmax Q(=0): 355 m at 2900 1/min. Components and materials selected for the highest reliability in hard conditions:
High wear resistance increased by the hydraulic parts in engineering polymer reinforced with fiber-glass; the diffusers are provided with wear ring in stainless steel. The section of the shaft in stainless steel AISI 431, with hexagonal profile, is one of the biggest in the market for 4" pumps. The bushings are in stainless steel AISI316 like so the coupling. Maximum content of sand admissible up to 220 g/m3
High mechanical resistance and easiness of disassembly
Thanks to the one-piece stage body fully made by stainless steel AISI304 which confers rigidity to the whole structure; furthermore the suction support is equipped with built-in protection grid.
Greater functionality
The outlet is equipped with built-in retaining ball valve :
it reduces the losses of load
it grants the sealing in every condition
it avoids the lock off
Choice of materials: there are different possibilities for the casted components: brass, precision casted stainless steel AISI304. All materials used are suitable for contact with potable water.
Besides the pumps, the catalogue includes also a wide range of control panels available for the control of 4" submersible electric pumps, including the new models AZ1 and AY1 and the new series of inverter for wall installation IVTP and IVMP.