SAER Has Launched its New Website
Saer Elettropompe has restyled both its web sites, one for its famous pumps and the other one for the motors segment. The new sites are extremely user friendly and available in five languages.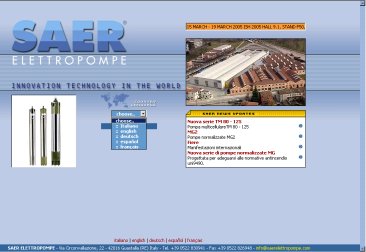 SAER has completely redesigned both its websites
The new Internet presentation welcomes visitors with quality graphics and the site is well organized following a technological viewpoint to achieve maximum usability. The user can reach every section with a few mouse clicks.
The entire site is available in English, Italian, French, German and Spanish.