Saer Elettropompe Grows with Its Partners
03.06.2010
On May 22 2010 Mooris Pumps & Irrigation, 12 years Saer Elettropompe valuable Partner in Belgium, has opened a completed new distribution plant in the center of the biggest industrial zone of Belgium, next to the express way N76 between Overpelt and Lommel.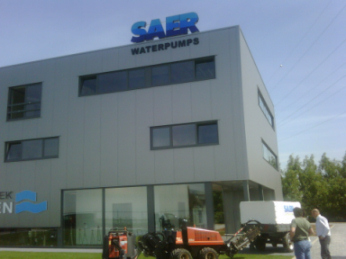 Saer Elettropompe
Ms. Ilaria Favella, Marketing and sales Manager and Mr. Edvin Husovic, Area Manager, were there representing SAER during this important event for both Companies. About 150 people attended the inauguration.
The new plant includes 200 m2 offices, a training room, services & maintenance workhouse and a 175 m2 showroom. The first stadium of the warehouse is 1000m2. In the M.P.&I. Group now are working 22 people.
This investment has been made also to give a quicker and more efficient service to the continuous growing
number of SAER customers in Belgium.
Even tought this worldwide hard period of crisis, SAER throught efficient Partners and high quality product continue its growing: the choice of the italian factory to focus on full italian made product and the direction towards more and more industrial sector has been the key of constant growing both for SAER and his Valuable Partners, like in this case Mooris.